FSLOVENGLISH
CEIP FUENTESANTA ENGLISH BLOGSITE
lunes, 6 de mayo de 2019
Year 1. This & That.
Descarga
la ficha
.
Descarga el
PowerPoint
.
jueves, 21 de marzo de 2019
Phrasal Verbs are essential to learn good English. We have studied some important ones during Year 5 and 6.
If you click on this picture you will find activities to practice
------------------------------------>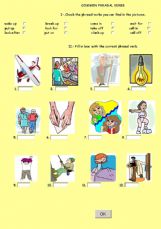 lunes, 18 de marzo de 2019
Year 1. This & That.  Descarga la ficha . Descarga el PowerPoint .

ENGLISH.  YEAR 2 Click on the image to see more pictures. Describe the pictures using the proper vocabulary. Have fun!

YEAR 2. SCIENCE.  L ook and describe the picture. Read the questions, choose the right answers and win eight points.  Tell ...